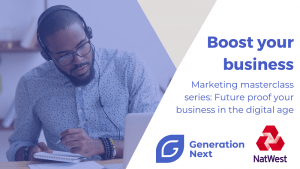 East Midlands Chamber's network for young professionals, Generation Next, is teaming up with NatWest and Luv4 Marketing to deliver a marketing masterclass series.
Generation Next is a membership service for young business owners and employees aged between 18 and 35. It aims to connect members with like-minded people, develop their skills and open doors to new opportunities.
The marketing masterclass series includes six sessions – running from 2 February until 11 May – and is designed to help business owners and employees develop their company's marketing strategies with the latest digital trends.
Topics covered will include lead generation, social media and paid advertising. Delegates will leave the series with a 90-day cross-channel marketing plan to increase their business' online presence and leads.
Director of resources and Generation Next project lead Lucy Robinson said: "There's a wide range of young workers that have been, and continue to be, affected by the pandemic while trying to climb the career ladder.
"We therefore want to ensure that we have the best possible support in place to help young professionals keep developing their skills throughout this period, alongside creating a welcoming environment for members to share experiences and make valuable connections. By teaming up with NatWest, as well as running our own online programme of events, we can do just that."
To book onto the marketing masterclass series with Generation Next and NatWest, visit http://bit.ly/GNxNatWest.