Our network is comprised of forward-thinking individuals, all wanting to boost their professional development and connect with other likeminded individuals through Generation Next. We caught up with new Gen Next member Theo Kirk to find out what her career journey has been to date and why she joined our network.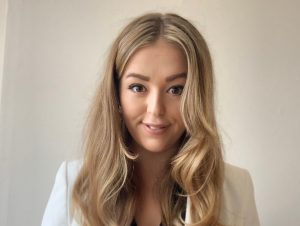 Name: Theo Kirk Assoc CIPD
Age: 27
Location: Nottingham
Business and job role: Operations manager for Express Recruitment
What has your career journey been to date and what does your current role involve?
My journey to date has been incredibly enlightening. I stumbled upon my role by chance, or fate? As a young assistant manager of a village pub and restaurant, I attempted to navigate the job-hunting world when I realised I was heading for a bit of a glass ceiling.
At the age of 17, attempting to sail the seas of life, I thought my biggest regret was not attending university. Due to a few "home life" kinks in the road, I had to make the difficult decision to "drop out" of my A levels in the final January, and instead ask my manager if I could go full time at the restaurant I waitressed at. In my mind, the lack of university made me practically unemployable! It didn't stop me climbing the hospitality ladder from waitress to supervisor to assistant manager.
A few years later I was ready to move on. Naively I believed that despite my hospitality management qualifications, my leadership skills, my excellent customer service skills and my sheer determination I would have to 'start again' from 'the bottom' if I ever wanted a career in an office. I didn't know what I wanted to do in said office, I just wanted to be 'in an office'.
Following a quick google on "How do I get a job?" I dutifully uploaded my CV to a popular job board, and very quickly received a call from Express Recruitment. I gathered all my documentation, headed to the office, and sat down for my interview with a consultant. I quickly realised I was interviewing for another hospitality job, I curtly said "with all due respect I don't want this job" (and felt like giving up). Next thing I knew, the MD was waving behind my head, beckoning the confused looking consultant to bring me over to her, and in a whirlwind moment I was all of a sudden deep in conversation with her, immediately I knew I'd found my mentor (and hopefully my new place of work!). She saw a hunger in me that I didn't even see in myself!
When I was offered the role of Recruitment Consultant to take charge of the Temporary Division I was absolutely over the moon, not only had I been offered this opportunity to 'be in an office' but I'd landed a lucrative role, with a glamorous title, the chance to earn this amazing thing called commission, all whilst working for a well-established and highly reputable family business. I wasn't just 'an office worker' I was a human being, working with a team of incredible human beings! I fell in love with the commercial world, and it quickly became my favourite thing to do, talk about, share with others and thrive in!
It wasn't long before I wanted to give others the opportunity to get that incredible office "break" that I had. I quickly developed a compulsion to reassure others that worked in hospitality, leisure, retail, healthcare and education that they too had transferable skills for professional customer service roles, sales roles, reception roles, administration roles and typing roles. I didn't understand why my clients weren't open to transferable skills, then it occurred to me, it wasn't long ago that I, too, didn't realise this was possible!
I'd never considered myself to be "salesy", nor did I expect to be working in sales. I thought I'd hate it (double glazing and PPI, right?!). I soon realised that when you have a genuine passion for something, and a wholehearted desire to make a change, selling is the most natural skill in the world to master! I wanted my clients to be more open minded, and in turn I was confident that I would be able to expand our portfolio of temporary workers. I absolutely did! Increasing the client portfolio by 217% from 2014 to 2017.
As I write this I'm into my 8th year here at Express Recruitment, starting as a recruitment consultant on the temporary division, developing the division to need two new heads for me to train, expanding my portfolio across legal and secretarial permanent placements, winning a new major call centre account, being granted a new consultant to run it, progressing to divisional manager, then finally operations manager in 2017, a role that I thoroughly adore.
As I mentored and developed my people to take over the day to day running, and expansion, of my core divisions I just kept achieving more and more job satisfaction. Hiring brand new inexperienced employees (like me once upon a time) brought a new level of reward that I hadn't felt before. I wanted to give these people the chance I had, I wanted them to not only learn from me but to share new and innovative ideas and perspectives too! By 2018 our workforce had grown from 5 FTE to 22 FTE. I was immensely proud because I made that happen!
To date, my role as Operations Manager is immensely varied. I am responsible for all HR and Learning & Development for the business, line managing a team of new managers and consultants, ensuring top notch customer service, quality and compliance for our clients, and ensuring the business is developed and marketed effectively. I was lucky enough to be offered the opportunity to complete a CIPD Level 5 HR Management qualification, which was actually wrapped up and gifted to me for Christmas in 2018 by my Managing Director. She knew how much it meant to me to have the 'piece of paper' to back up my credentials, and she made it happen. Still to this day I have to remind myself sometimes that despite not attending university, and despite being 'just a waitress' 10 years ago, I am still successful!
Why did you want to join Generation Next?
This is the easiest question in the world! When I saw a Generation Next post on LinkedIn I couldn't believe how well the concept matched me! Any recruitment consultant loves a seamless matching process, but this was different, I instantly browsed the website and found myself nodding enthusiastically and mumbling "OMG this is just so me, yes, absolutely, definitely" to myself as I scrolled through.
I will not be alone when I say that 2020 has taught many people to take a step back, evaluate themselves and their lives, and discover happiness in new things. For me, I have been highly successful based on one business owner's belief in me! I couldn't have been more inspired to give that same sense of satisfaction back to others. From there, my passion for championing young talent, enabling young success, and sharing my story spiraled! I hope Generation Next will provide a solid platform for me to continue connecting, learning, growing and influencing other like-minded young professionals to be whatever they want to be, and achieve whatever they want to achieve, irrespective of preconceived barriers.
What are your future goals and who is your inspiration?
As a recruiter I've heard many an interviewer say "What does success mean to you?" – to me success is a combination of credibility and pride. My biggest goal is to continue being successful, continue building my credibility in the professional world, and continue feeling pride. I don't just want to feel proud of myself, I want to mentor and develop others to feel proud of all they have achieved too, being a part of that achievement is just a bonus!
I want to continue utilising my organisational development and leadership skills to help Express Recruitment's people be the best they can be, and help the business grow and develop as the market does! I want to look back in another 8 years and see the next upcoming operations manager climb the Express ladder and thrive!
I don't believe in having just one inspiration. People need to learn from people, not just one person. People need different perspectives, motivations, opinions and ideas to grow. However, if I was tasked with the job of naming my role models, one would be (without doubt) my fiercely independent and highly dedicated mother, a successful saleswoman herself, and secondly my inspirational managing director Lesley Beauchamp.
At 18 Lesley decided against university when some of her peers chose to, she opted to become a successful businesswoman/entrepreneur, as opposed to the then-popular choice to be a homemaker. As a self-made success story at a young age, from very humble beginnings, Lesley has always had a passion for providing opportunities to younger members of the community. She is a boss like-no-other, I have never met a woman more dedicated to supporting her employees to build a better future (both inside and outside the four walls of the office). If one day I am even half the leader that Lesley is then I'll know I've made it!
What are your hobbies and interests outside of work?
This is a tricky one…. I am a workaholic! Not due to forced long hours, unrealistic targets, or pressure from the powers that be! I'm a workaholic because I choose to be! I love what I do!
If I had to think outside of work, I'd say a huge interest of mine is my dogs, both are rescues (one gorgeous young pug named Pierre, and another beautiful Brittany spaniel named Winnie). My Brittany was rescued in 2018 via Express Recruitment's company charity Lanzarote Dog Rescue UK. Winnie arrived home in April 2018, too terrified to eat, sleep, snuggle, play (to do anything really!) having been caged from birth as a pup until her rescue day. When I'm not working I'm developing Winnie and Pierre! I spend a lot of time proudly showing them both that humans can be trusted, toys are to be played with not feared, off lead walking is possible, and roast chicken dinners are delicious (yes I do cook Winnie and Pierre one every week)!
I hope you find my story interesting, and if my Q&A has inspired just one person today then I'm winning! Thank you Generation Next for having me.
Generation Next is a network for young professionals to make connections, build new skills and advance their careers. If you are interested in joining our community, visit https://generationnextemc.co.uk/become-a-member/