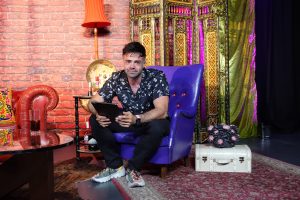 Professional video and photography company AV IT Media is based in Derby. The firm's client base includes the likes of Land Rover and BMW, Derby County Football Club, Pearl & Dean and Carmex – and now it can add the Generation Next Awards to that impressive roster.
The Generation Next Awards aired on 16 July, and co-founders Mark Averill and Ash Stanley played a big part in the production, providing the filming and editing, as well as presenting services.
We caught up with Mark about the filming day back in June and his advice to the next generation of business.
How were you involved in the Generation Next Awards 2021 and what goods and/or services did you provide?
We provided a host, who was our co-founder Ash Stanley, as well as the full video services to put the whole production together – all the way through from filming to editing services.
How was it being on the awards set?
Everything was great and the day was really well organised by Kate. The team all worked together well and we had a lot of fun while shooting it.
As you know, Generation Next is a support network for young professionals based in the East Midlands. What advice would you give your younger self?
Believe in yourself. We don't do that often enough. It really is important to believe in your skillset so you go for them goals.
Generation Next is a support network for young professionals aged between 18 and 35 based in the East Midlands. Its membership package gives young workers access to its events programme – which connects delegates with likeminded individuals, as well as leading business professionals from across the region, to build their networks and skills. For more information on how to become a Generation Next member, click here.