As we approach the end of COP26, Sustainable East Midlands policy officer Amy Kopyrko summary of the week including a draft climate agreement for nations and some big transport-related announcements.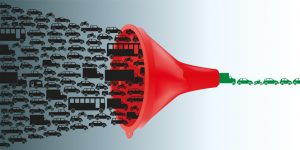 The end of COP26 is nearing and the draft COP decision text has been released
The COP26 draft decision sets out what the negotiators are hoping to achieve during the two-week summit.
all, it reiterates the announcements made prior to its publication such as the Declaration on Forests and Land Use. It expresses "alarm and concern" that human activity has caused 1.1C of warming compared to pre-industrial levels.
The document highlights climate finance and "notes with regret" that the aim of mobilising £100bn a year – which would be provided by developed countries to support efforts from developing nations to address climate change and its impacts – has not yet been met. It also "calls upon parties to accelerate the phasing out of coal and subsidies for fossil fuels".
The reaction to the draft has been mixed, with much of the criticism centred on finance. Jennifer Tollman, a senior policy adviser at E3G, said "the draft is more heavily weighted toward climate mitigation actions to reduce the severity of global warming, and more vague on ambition and finance".
The Alliance of Small Island States said the text "provides a basis for moving forward but it needs to be strengthened", adding that "urging, calling, encouraging and inviting is not the decisive language that this moment calls for".
Nature and Land Use Day
Announcements were made on agricultural reform and innovation, with 26 nations setting out commitments to make farming more sustainable. The UK committed to engage 75% of farmers in low-carbon practices by 2030.
Meanwhile, Sainsbury's, Tesco, Waitrose, Co-op and M&S, in partnership with WWF, have pledged to half the environmental impact of a weekly shop by 2030.
Adaptation, Loss and Damage Day
A UN publication reported that adaptation costs in developing countries are five to 10-times greater than the current public adaptation finance flows, saying the adaptation finance gap is widening.
The Adaptation Fund received $20m from the UK and further funding was announced for climate adaptation, conservation and low-carbon transitioning in the Asia-Pacific region. Another £1m was pledged to support faster response to natural disasters.
Science, Innovation and Gender Day
Tuesday was focused on science, innovation and the importance of gender equality in tackling the climate crisis.
Twenty-three governments announced four new missions as part of Mission Innovation to catalyse investment that will accelerate technology. These are:
Urban Transitions Mission
Carbon Dioxide Removal (CDR) Mission
Net Zero Industries Mission
Biorefineries Mission
Other announcements included the Industrial Deep Decarbonisation Initiative, where member governments have committed to the disclosure of embodied carbon of major public construction by no later than 2025.
They also pledged to achieve net zero in major public construction steel and concrete by 2050.
Events demonstrated how technology can be used to tackle some of the world's biggest challenges, ranging from deploying acoustic monitoring to combat deforestation through to data analytics used to forecast the impact of electric vehicles on the grid.
Transport Day
On Transport Day, held today (Wednesday), we have witnessed three major declarations:
COP26 declaration on accelerating the transition to 100% zero-emission cars and vans
The International Aviation Climate Ambition Coalition has committed to working together to support the adoption of an ambitious global goal for reducing CO2 emissions, which includes working towards sustainable fuels, a global carbon offsetting scheme and new aircraft technologies
Clydebank Declaration to create at least six green shipping corridors by the middle of this decade
The UK Government also confirmed that new, non-tailpipe emission HGVs over 26 tonnes will be phased out by 2040, with those under 26 tonnes to be phased out by 2030.
Transport Day also included events focusing on the challenges of electric vehicles. Professor Mark Johnson, from the University of Nottingham, gave a talk on power electronics and challenges associated with scaling up this technology.
He also explained the university's work on novel integrated powertrains as a cost-effective green solution to electrification in the Powertrain Research Centre.
Generation Next brings together senior leaders from across Derbyshire, Nottinghamshire and Leicestershire to talk about the topics in business you need to know about. Its membership package also gives young workers access to its events programme – which connects delegates with likeminded individuals, as well as leading business professionals from across the East Midlands, to build their networks and skills. For more information on how to become a Generation Next member, click here.