COP26 represented a golden opportunity to take a big step forward in the fight against climate change as world leaders congregated in Glasgow to make commitments to how they will aim to keep global temperatures below 1.5C compared to pre-industrial levels. Amy Kopyrko, the Chamber's Sustainable East Midlands policy officer, was tuned in to keep track of announcements that will impact businesses in our region.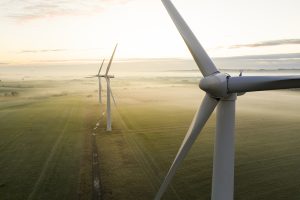 The climate change conference wrapped up with the publication of the Glasgow Climate Pact, which marked the first climate agreement to reduce global coal usage – although it attracted controversy for changing thewording from "phase out" to "phase down" in a last-minute intervention.
While some criticised the agreement for not going far enough, many agreements made at the conference should be celebrated for their efforts to transition to a low-carbon economy while creating green jobs in areas including the East Midlands. It is easy to become overwhelmed by the announcements made at COP26, but the benefits for SMEs committing to net zero have never been clearer.
Large firms to set out net zero plans
One of the first announcements from COP26 was that large firms and financial institutions will be required to demonstrate how they plan to decarbonise.
This is expected to trickle down to smaller companies in the supply chain, making good business sense for SMEs to develop net zero pathways. To support the transition, HSBC announced a new £500m Green SME Fund, while local funding support can be found at the Chamber's Sustainable East Midlands page.
Zero-emission cars
Transport Day brought a flurry of commitments, one being the declaration on accelerating the transition to 100% zero-emission cars and vans by 2040.
The commitment was signed by governments including the UK, Canada and Mexico, alongside car manufacturers such as Midlands-based Jaguar Land Rover. The East Midlands' strong position in the automotive supply chain means it could benefit from this new focus.
Decarbonising HGVs
The UK Government also confirmed all new HGVs weighing more than 26 tonnes will have to be zero-emission by 2040 – with petrol and diesel phased out for lighter lorries by 2035.
Work is already underway in the East Midlands to begin the sector's decarbonisation with the H2GVMids project, developed by the Energy Research Accelerator and partners from industry and academia, including Toyota and the University of Nottingham.
It is preparing the ground for a green hydrogen-fuelled 44-tonne truck demonstration programme in the Midlands.
Science and innovation
There was a strong focus on science and innovation throughout COP26 and the presence of universities in the East Midlands showcased how the region can be a hub for new technology.
The University of Leicester was one of 11 organisations to be awarded funding for the GHGWatch project. Run alongside Birmingham-based Geospatial Insight, it will help tackle climate change by using space-based technologies to detect and monitor greenhouse gas emitters.
The University of Nottingham, in partnership with Durham University, Johnson Matthey and NFU Energy, will also assess the viability of deploying catalytic technology to manage livestock methane emissions – with the potential to help the UK contribute to the new global target of reducing methane emissions by 30%.
Food production
The decarbonisation of agriculture is expected to gather pace as Nature and Land Use Day saw the UK commit to engaging 75% of farmers in low-carbon practices by 2030.
Sustainable production and consumption was also prominent, with supermarkets such as Tesco, Sainsbury's and Co-op partnering with the WWF charity for a "basket measures" initiative, pledging to halve the environmental impact of a weekly shop by 2030.
This is another commitment expected to trickle down into the supply chain as greater importance is placed on waste, packaging and sustainable diets.
Generation Next brings together senior leaders from across Derbyshire, Nottinghamshire and Leicestershire to talk about the topics in business you need to know about. Its membership package also gives young workers access to its events programme – which connects delegates with likeminded individuals, as well as leading business professionals from across the East Midlands, to build their networks and skills. For more information on how to become a Generation Next member, click here.