As part of Generation Next's eco-series this November, East Midlands Chamber's Sustainable East Midlands policy officer Amy Kopyrko looks to how SMEs can reduce their carbon footprints.
The Power of SMEs
SMEs contribute to around 50% of total UK turnover and play an important role in the UK economy. A new report by the British Business Bank also estimates that SMEs collectively account for around half of Greenhouse Gas emissions from UK businesses.
SMEs therefore have an important role to play in the UK achieving its climate goal of reducing greenhouse gas emissions by at least 78% by 2030, compared to 1990 levels.
Why focus on sustainability?
Making changes such as installing energy efficient measures at your premises will result in cost savings. Providing low carbon options in products may also help you to access price premiums. Another case for making sustainable changes is anticipating regulatory changes to be a step ahead of competitors when changes in policy come into force. Sustainable changes will also be required to participate in supply chains, with 96% of multinational corporates having committed to net zero by 2050.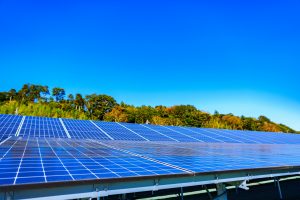 Encourage a sustainable commute
Encourage your staff to use more sustainable ways to travel to the workplace by promoting local initiatives such as Tram to Work, Bus to Work and Cycle to work schemes.
Workplace grants may be available in your area to help with the cost of workplace travel improvements such as cycle parking, electric vehicle charging points, help with car share incentives and more.
Details of funded support and programmes can be found on the Sustainable East Midlands page.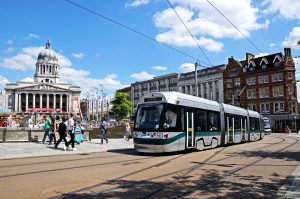 2. Improve the energy efficiency of your building
This action can come with massive cost savings for your workplace. For example, savings from insulation can be between 10% and 30%.
You can also make savings by switching old gas boilers to heat pumps or changing lighting to more efficient options. LEDs can make a big difference in cost and energy reduction.
There is lots of funded support available for SMEs wanting to improve the energy efficiency of buildings, these are detailed on the Chamber's Sustainable East Midlands page.
3. Reduce emissions from food and food waste
If your business has a canteen a good start would be to ensure that all kitchen staff are aware of the issues from food waste. Secondly, check with your waste contractor if they provide food waste collection, and if they do, collect any food waste separately by providing food waste bins in the canteen.
To reduce emissions further consider implementing "meat free Monday" or something similar as 18% of global emissions come from livestock agriculture.
Reducing food waste in company events is often viewed as impossible, as it can be difficult to predict numbers and also food preferences. One way to begin managing and reducing this waste stream is to plan the menu with records from past events. This would require keeping archives of how much food is consumed and what the common preferences seem to be. Another tip is to order food for around 70% of attendees, or the average drop out rate.
If that doesn't sound like something you could implement, you could consider partnering with a food donation programme, or app. If your business is in hospitality these partnerships can save carbon and also give back to the community.
4. Implement a sustainability policy for the workplace
Implementing a small set of sustainable practices for the workplace can help to reduce your footprint in a variety of areas. Suggestions include:
Coffee and tea
Employees often purchase hot drinks from outside the company, bringing takeaway cups into the office or workplace. Not only do these cups end up in landfill but they are a huge drain on resources – 6.5 million trees are cut down each year to produce coffee cups
Encouraging staff to use reusable cups or providing them with one is a quick and easy switch to boost the sustainability of your business.
If making a hot drink in an office environment try to make hot drinks in batches, when possible. This is a nice gesture and will save on electricity as it costs 2.5p on average to boil a full kettle.
Recycle
Replacing any individual waste bins with communal recycling bins.
Reduce paper waste
Once you have implemented a recycling system, the amount of paper that you dispose of will become more obvious. There are several easy ways to reduce this waste by implementing reduction techniques such as:
A move towards paperless practices such as e-documents, e-bills and e-signatures
Print double-sided as standard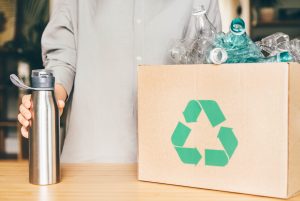 5. Measure your footprint
One of the best ways to make carbon reductions is to measure your business' footprint. However, according to the British Chambers of Commerce only one in 10 small businesses measure their carbon footprint. Measuring your emissions will be beneficial as customers are becoming more interested in a company's emissions and sustainability pledges.
A basic carbon footprint is made up of scope 1 and scope 2 emissions:
Scope 1 — Direct emissions from activities under your companies control — for example while running its boilers, company owned vehicles and any air conditioning leaks
Scope 2 — Indirect emissions from electricity purchased and used by the organisation.
This does not have to be hard or complicated – all you need access to your heating and electricity bills and an online tool will do all the rest,  such as the below:
SME Carbon Footprint Calculator
Funding and support may be available in your local area to help with carbon foot printing, for example Sustainability in Enterprise ran by Nottingham Trent University.
Together we can make a change, influence others and create a better planet.
The climate is changing, are you?
Generation Next brings together leaders from across Derbyshire, Nottinghamshire and Leicestershire to talk about the topics in business you need to know about. Its membership package also gives young workers access to its events programme – which connects delegates with likeminded individuals, as well as leading business professionals from across the East Midlands, to build their networks and skills. For more information on how to become a Generation Next member, click here.