Building a professional network is one of the most important things you can do to advance your career, build your future and thrive.
While many people understand its importance lots of us can find the whole idea very daunting but networking isn't as complicated or scary as it sounds. Even if you are just starting out, you are already part of a network, the next step is to learn how to expand, maintain and use it effectively.
In this article, we'll explore the different ways to build a network and outline some helpful tips that'll enable you to network with ease.
Before we get started, you may be wondering…
What is a professional network and why do I need to build one?
A professional network is a group of people who have connected with one another for career or business-related reasons.
Essentially, professional networking is all about forming important connections, contacts and interactions to help you to progress. The old saying "it's not what you know, it's who you know" is definitely relevant in the context of professional networking.
In a professional network, you may share information about job leads and solve work-related problems with other members of your network.
The main benefit of building a network is career progression. Building a professional network can help you to unlock business opportunities more easily; whether they be job opportunities, sales opportunities or partnerships. The more people you engage with the wider your circle becomes and if you meet your professional connections on a regular basis it enables you to stay close to the ground and be the first in line for any opportunities that may appear.
But networking is more than just job opportunities. You never know when you might need to seek the advice of those in a specific industry or need to help someone else in your circle by connecting them to new people.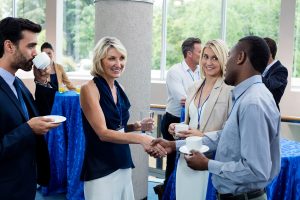 How to build your professional network
Plan and commit to networking opportunities
If you want to build your network, the first step is to find some relevant networking opportunities. A great place to start is your local chamber of commerce who often host various networking events, exhibitions and sector-specific conferences that provide unlimited collaborative business opportunities for individuals at any career stage.
Generation Next, a network designed specifically to support young professionals, hosts formal and informal networking events in the East Midlands throughout the year. Check them out here.
Once you've identified a networking opportunity that works for you write it in your diary and commit to it. If you are a nervous networker, you might be tempted to back out, but by making a commitment and allocating time in your schedule, you are more likely to make sure it happens.
Carry the right tools
Once you've committed to a networking event make sure you're prepared by carrying the right tools.
It is good networking practice to carry a supply of business cards. If your employer doesn't supply business cards, consider having your own personal contact cards printed. If that's too much of a stretch for you, passing on social media details such as a link to your LinkedIn profile could also work. Just make sure you follow up with the person on LinkedIn after the connection is made.
Make the effort to keep in touch
Professional relationships strengthen over time, so make sure you stay in touch with your network. It isn't enough to meet once, add that person on LinkedIn and then never contact them again.
To keep in touch with your new connections here are a few tips:
If you see an article that a colleague might like, ping them over an e-mail.
If you see an opportunity that someone in your network might be able to bid for, let them know.
Like, comment or share their LinkedIn posts.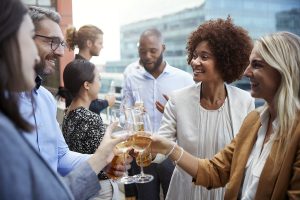 Look to your university alumni
If you're recently out of university, or even if you aren't, connecting with members of your university alumni is a great way to build connections and boost your networking skills. Most alumni groups put on a combination of social and professional events, and some universities even have sub-groups based on age or interest.
Ask for help
If you're building a network from scratch make sure you take advantage of the connections you already have. Ask relatives, friends and colleagues if they can introduce you to valuable professional connections.
Get more active on LinkedIn
LinkedIn is one of the most important social media platforms for business professionals, and if you're not active, you're most likely missing opportunities to be connected with people who could help you thrive.
You don't need to post all the time or randomly comment on tonnes of posts, a consistent presence is more than enough. You can also use LinkedIn to connect online with people you have met at networking events and develop your relationship further.
LinkedIn is also a great tool for growing your personal brand and expanding your online community.
Top Tip: According to Forbes, growing your LinkedIn network by 20% with quality connections is likely more beneficial than expanding it by 40% with random connections.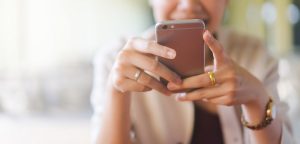 Building a network with help from Generation Next
At Generation Next, we know how important it is to develop a professional network and improve your networking skills – so we work with people like you to help you thrive and give you the opportunities you need to grow.
We host a range of formal and informal networking events designed to put you in front of the right people and boost both your contacts and confidence.
By becoming a Generation Next member you'll benefit from unrivalled access to these networking services, plus our resource bank of business support and advice from real experts, which members can now access by registering through an online portal.
As well as networking, Generation Next can also help you cultivate your business skills via our dedicated programme of educational webinars, hosted by business leaders who want to share their unique insights to help you grow.
With the right support, there's no knowing what can be achieved. For more information on how Generation Next can help you to expand your network, please get in touch. We'd love to hear from you.