Daniel Jones, managing director of Derby-based boiler maintenance service Professional Heating Solutions, won the Breakthrough Award at last year's Generation Next Awards – sponsored by Nottingham University Business School.
He spoke to the Generation Next team about his entrepreneurial journey and the importance of receiving the recognition.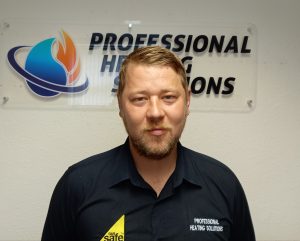 Tell us about your journey from starting out to winning the Generation Next Breakthrough Award?
We set up by accident after being asked a lot by family and friends to install new boilers, service heating systems and fix problems. As a regulated trade, we can't do the work unless we hold a gas safe registration and I had to create a business name as part of the application. From there, I set up a Facebook page and did some social media advertising, and the uptake became enough for me to go full time.
When the country went into lockdown I stopped working and had some tough choices to make – either find a job or really push the business. I changed my mindset from being self-employed to a business owner. I created our website and set up our safe and warm service plan. As we grew, we recruited engineers and office staff, and moved from a kitchen into an office. Word was getting around about our service and we were being approached by some of the largest insurance companies to become their preferred contractor.
What has been the secret to your company's success?
We have a core set of values I was taught in my first proper job since leaving school – respect, integrity, service and excellence – that we strive to live up to every day and instil values into our employees from day one. We want to change the way tradesmen are viewed. We have had to adopt our approach to win the trust of our clients. Showing our clients we are genuine and they are at the heart of what we do is so important.
What tips would you have for any young person considering setting up their own business?
Firstly, "screw it, just do it". There will be people who support you and those who don't but believe in yourself. Open as many doors as you possibly can every day. Sometimes the hardest of doors to open can have the very best rewards. Playing safe can earn you a living but taking a calculated risk can, like me, land a large contract that takes you to the next level.
Seek as much advice as you can by using organisations such as the Chamber, Generation Next and university business schools as they open the doors for you – but also open your mind to others' point of view as we need a difference of opinion to identify and overcome challenges. Finally, if you are going to do a job, do it right.
How does it feel to win recognition for what you've done via the Generation Next Awards?
For me, winning the award was so much more than just raising the profile of the business. It was proof that, although I may not think it, I am not just a tradesman. At school, I was told I would never amount to anything, so the recognition gave me confidence in my own ability and the self-belief I had always been lacking. I genuinely felt very humbled at winning, and there can only ever be one winner, but the true winner is the Generation Next team for what it has done for young business people.
Generation Next is a support network for young professionals aged between 18 and 35 based in the East Midlands. Its membership package gives young workers access to its events programme – which connects delegates with likeminded individuals, as well as leading business professionals from across the region, to build their networks and skills. The Generation Next Awards 2022 are currently open for entries and close on 3 May.