In February, Generation Next hosted an event at one of Nottingham's newest coffee houses – Blend at EastWest. The venue found its roots as a coffee shop in Sneinton Market, where its roastery business Stewards Coffee is based, before it expanded across the city.
At the event, Jasmine Thompson spoke to director Nathan Barton about the business.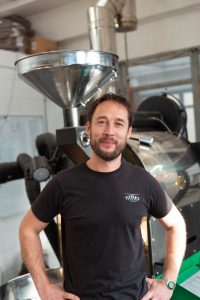 How have the two businesses – Blend and Stewarts Coffee – developed and expanded over the years?
Our roastery Stewarts Coffee initially started out in Trent Bridge, and we moved to Sneinton Market to create our first Blend venue. At the time, Sneinton Market didn't have much going on – but the idea for the move was based off the need for multi-functional space. We wanted to build something from there.
With my previous background in restaurants, and having a coffee roastery, it seemed like a good opportunity to have a coffee shop – we had the right skill set.
It was a bit of a risk going down there because the footfall wasn't there, but we've been opened down there for five years now, and it's just gone from strength to strength. We've seen the area become more vibrant, with lots of pubs and retail spaces opening up in the area. It's a real thriving spot.
We have now expanded across three sites: Sneinton Market, EastWest and Nottingham Contemporary.
The coffee roastery has always been our primary business, the coffee shop was an add on to that and the success of it has enabled us to look to other opportunities, which led us to Blend at EastWest and Nottingham Contemporary.
The building was looking for a local operator to provide exactly good quality coffee and food to its tenants.
This also allowed us to open the doors to the general public as well, so we got the best of both worlds, with a market already sitting upstairs – well that's what we thought obviously Covid had an impact when no one was working in the offices.
Our business comes from two places so it's good. There are potentially 1,000 desks upstairs, and we can take advantage of a small percentage of those coming down and paying for our goods.
Since the pandemic, have you seen people wanting to get away from the home office and work in Blend?
That is definitely the vibe here at EastWest. Across the three offices, we've actually had business contact us who have downsized their offices and all of a sudden need meeting space for people coming in from out of town.
Sneinton is a bit busier, and we've had to introduce policies around people using laptops and freeing up space during busy periods at lunchtimes.
It's a different vibe in each location, which have different markets. At EastWest, it is much more "everyone has a laptop, everyone is here to work", because of the way the building is built with the sound proofing – it's very much a working environment.
Have you seen good recovery in the city centre now restrictions have been lifted?
We've had some recovery, but it has been slow. Business started building up in November last year, and then died off again with the new variant. Now, we're slowly seeing a build up of people getting back to that level we experienced last year.
We hear from our landlord that it is getting lots of enquiries from tenants, with two floors potentially being filled soon. In the next month or two, we are looking for business to pick up further.
Do you have any plans for more coffee shops?
Not quite yet. EastWest and Nottingham Contemporary came about as opportunities, and each of the buildings are similar in the way that they drive their own footfall.
If we had the opportunity to create something similar – as in working within another business – I would find that quite low risk but we probably are not quite ready for a standalone coffee shop.
We would like to establish ourselves and our systems more before entering into anything like that, but hopefully we'll get to that point in time when we can start up another site.
Do you often have networking events like the one held by Generation Next at Blend, and is this something you are looking to develop further?
We've done one or two – and a few with Nottingham BID when they've hosted events in the evening.
There's a lot of space, for example like the one you've used upstairs, that is there to be used and hired out.
There is AV equipment built into the building as well, so we house those practicalities that can be taken advantage of. It closes at 3pm currently, and we do plan to extend that, but that does open up the opportunity for events to be post-3pm, and into the evenings and even weekends.
Generation Next is a support network for young professionals aged between 18 and 35 based in the East Midlands. Its membership package gives young workers access to its events programme – which connects delegates with likeminded individuals, as well as leading business professionals from across the region, to build their networks and skills. For more information on how to become a Generation Next member, click here.