Knowledge transfer partnership (KTP) associate Harsh Shah is working on a project with East Midlands Chamber and De Montfort University, and has recently been invited to join a data study group at the Alan Turing Institute. He speaks to the Generation Next team about his experience undertaking a data study group at the Institute.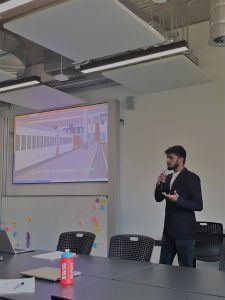 What are data study groups (DSG)?
Intensive "collaborative hackathons", which bring together organisations from industry, government, and the third sector, with talented multi-disciplinary researchers from academia.
Organisations act as data study group "challenge owners", providing real-world problems to be tackled by small groups of highly talented, carefully selected researchers
Researchers brainstorm and engineer data science solutions, presenting their work at the end of the week.
What was involved in the DSG?
The DSG group that I participated in involved case studies developed by Siemens Mobility to solve the problem of rolling stock brake condition assessment.
We had to resolve a series of questions highlighted by the company using the data provided by finding correlations, anomalies, patterns, and developing machine learning model.
Why did you want to be involved in the DSG?
I came to know about the DSG from AI UK conference managed by the Alan Turing Institute. I realised the scale of work that the Institute is doing at numerous levels ranging from policy-making to climate change to skills.
This interested me in being part of the DSG where I would have an opportunity to solve real-world problem for large organisations using my technical expertise around data analytics.
I believe the DSG was an opportunity to learn from and collaborate with experts from different domains who would analyse business problems/requirements from various perspectives.
What did you enjoy about the week?
I would describe my time during DSG as something that I would cherish in my personal and professional career.
The team who managed the DSG ensured we only had to worry about working on the business problem.
All the additional operational requirements – hotel stay, food, technical support, academic support and business support – were taken care of by the DSG team.
From technical perspective, I learned number of things in terms of data – storage, confidentiality, pre-processing and new machine learning models. From personal development point of view, I learned more about my individualistic strengths and management style.
I also came across different leadership styles and realised what works best for me in a collaborative environment and what doesn't. In terms of networking, I not only made good networks but it almost felt like we (myself and other participants) had known each other for ages.
An important lesson I learned from the DSG was that the team bonding grows over time and requires a lot of patience to bring everyone on the same page to achieve the goals. However, it does not work without communication.
Another important lesson was that some people have great ideas but do not have right resources at right time to showcase their abilities which sets them to take step back until someone believes in their potential.
What useful skills did you learn?
I believe the DSG boosted my confidence in my capabilities to deliver data-led findings, as I was awarded with Data Driven Approach award for my positive attitude and determination.
I made new contacts not only with the experts from The Alan Turing Institute, but also with colleagues from some highly reputable universities across UK – University of Oxford, University of Edinburgh, University of Birmingham, and University College London.
I believe the connection will help us share ideas to improve efficiency in my work and also help improve the reputation of the Chamber in future.
As mentioned earlier, I have learned numerous things about data, management and leadership styles which I am and will implement in my professional life. The learnings from DSG will also help promote the importance of data with policy-makers and SMEs in the East Midlands.