With the announcement of "lockdown 2.0", our guest blogger Maciej Rus shares his tips on how to stay productive.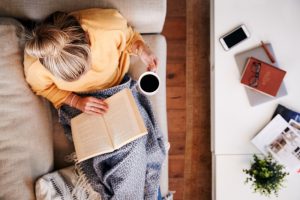 Why is it a good time for self-development?
Whether it was a sudden change to work from home, self-isolation or any other disruption to our normal routines, everyone's lives have been somehow affected by the new situation. In the past couple months, we saw many businesses and individuals struggling with the impact of national lockdown. However, for those who see the proverbial glass as half-full, the new situation was an opportunity for self-development.
In my case it was a chance to focus on myself, finally take the risk and start following my ideas. At the time I was working in a junior management role in the hospitality industry but as soon as I heard news about the pandemic, I knew that my position was at risk. Fortunately, not long after the new measures were introduced, I was placed on furlough which fortunately gave me some financial stability. With a lot of spare time on hands and a plan I had previously postponed, I realised that there wasn't a better time to focus on myself and start working towards my real lifegoals.
Below, I have written some tips to help you thrive through this uncertain period too!
Time to think about personal and professional changes
It's amazing how simply clarifying one's goals makes it easier to achieve them. While it is common to become too busy with work and our other everyday responsibilities, we should always try to find a moment to stop and look at the bigger picture. One of the best things about the new situation was the amount of spare time we all suddenly had. We had the time to relax, but also reflect on our priorities, think about personal and professional changes and plan the next steps.
To make it easier for yourself you can use different approaches, like Warren Buffett's two-list strategy or the Ivy Lee Method. Doing this can increase productivity and help you manage your time. Alternatively, you can simply write down your goals and prioritise them by importance like I did, then break them down to smaller tasks that you can set deadlines to.
Without going into too much detail, I have wanted to change my career path for a while, but I didn't have (or thought) I had, any significant skills, experience or achievements in the new field to showcase on my resume.
I was hoping to find some help online that would allow me to develop these attributes… and I've found A LOT!
Digital learning
There are plenty of online platforms, such as Coursera or Skillshare, which provide an abundance of both free and paid programs that you can choose from. Many of them, like Google's Digital Garage or The Open University, are affiliated to universities or organisations and come with recognised certifications. Such portals offer courses in pretty much any field, from arts and crafts, computer and data science, through to business and interpersonal skills. So whether you are looking to just kill boredom and learn a simple skill like cooking a new recipe, or to study something to help you land a job opportunity like me, the support is out there.
Apart from these services, there are many less conventional online resources that you could use to your advantage. I can recommend listening to audio podcasts to catch up on all the industry news and trends. It's a great way to add some extra value to time spent on simple tasks like housekeeping or cooking.
Another great idea is searching for YouTube tutorials to learn specific technical skills. It offers educational content covering a multitude of topics and all this knowledge is out there for free, just waiting for someone like you to go for it!
New healthy habits
For many, the first lockdown brought major changes to lifestyles – gyms and fitness centres closed for a long time; shopping became more time-consuming and for some even stressful. However, it was also a great time to employ some positive, healthy changes to our daily routines – and this is increasingly important to maintain as we move into the Winter months.
The sudden shift from my previous job to spending many hours daily in front of a computer meant that I had to adopt new healthy habits to stay focused and perform well. Being interested in personal development, I already knew how important it was to be physically active when working this way. I therefore did an online search and quickly found a home workout app that suits my needs. I also started planning my groceries, cooking at home and set aside ready-to-go meals and fast-foods that I consumed more often than I want to admit.
These simple things improved not just my physical and mental well-being, but also helped me improve productivity, save money and even reduce food waste. For you it could be any other reason – maybe you always wanted to start practicing yoga or simply get in shape – all reasons are great to start being healthier!
Online networking
If you are self-isolating or staying at home for any other reason, there are ways to keep your social and professional relationships alive, make new contacts and network like you did before. Today's technology makes social distancing easier to live with and the recent rise in popularity of communication software such as Zoom supports that.
Set aside time for yourself to get in touch with people online, friends and family that you cannot visit or have not spoken to for a while. Join an online club to simply meet new people with similar interests or… use this time to your advantage and start networking online.
Generation Next is a great example of an organisation inventing new ways to network and to help people stay connected during the lockdown. Generation Next is the East Midlands Chamber's network for young professionals aged 18 – 35. Its aim is to connect likeminded people, to help them make connections, build new skills and advance their careers. Do not hesitate to check out its upcoming events programme, which offers a range of formal and informal networking events, where business leaders and experts share their experiences. To help you cultivate your personal and professional skills, the network also provides access to educational workshops, blogs and other resources.
Start something new
Is there a hobby you want to try? Or maybe a business idea that you never had time to really focus on? With extra free time on your hands, take time to reflect, set your objectives and go for it!
Learn a new language, practice playing a guitar or start a DIY project. If you don't really know what you want to do, you can find plenty of suggestions online to help you pass the time productively. If it's not a hobby but a business or a career change that you were planning, then take into account the new situation and its effect on you.
While many industries and professions faced new challenges due to the pandemic, it also created many new opportunities. In my case, it was a new demand for services such as digital marketing but also the abundance of remote work offers that emerged online.
All the time spent on learning and self-improvement had finally paid off and here I am six months later, making the first steps in my career as an intern and working on another skill – content writing for a blog.
Habits to keep post-lockdown
With the numbers of people affected by coronavirus going up and down, we cannot be sure what the near future will bring. How long will "lockdown 2.0" last? Is everything going to go back to normal? Whatever the reality ahead of us, keeping those good habits developed during the lockdown might contribute to our wellbeing and success once our lives are back to ordinary.
The lesson I took from the last couple of months is that, with enough commitment, prioritising self-development is the best way to achieve our goals. For that reason, I am going to regularly take time to stop and reflect on my aspirations, concentrate on the really important ones and set objectives for myself. I am planning to spend more of my free time learning and trying out new things, and carry this on after the lockdown. I will stick to my healthy habits (I think this will be easy as I am already motivated by the positive results it has on me) and I will commit more time to networking and keeping my connections alive.
If you liked my story and you think that some of it applies to you, I put together a lockdown productivity checklist, that you can find below:
Take time to think about personal and professional changes
– Look at the big picture
– Prioritise your goals
– Set objectives and deadlines for them.
Digital learning
– Try online course platforms such as Coursera or Skillshare
– Try online courses with organisations like Google or The Open University
– Try YouTube tutorials for specific skills
– Try audio podcasts for industry knowledge
– Try reading more blogs like this one!
Healthy habits
– Remember the importance of physical activity
– Take control of your groceries and diet
– Be consistent and do not give up.
Online networking
– Get in touch with friends and family online more often
– Use online presence to your advantage
– Consider joining a networking club like Generation Next.
Start something new
– Leave your comfort zone, take a risk
– Follow your business idea
– Plan changes in your career path
– Try a new hobby or learn a new skill.
To learn more about the Generation Next membership and how the team can help you during this difficult time, click here.