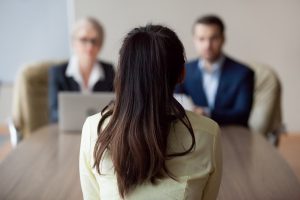 Job interviews are notoriously difficult for the majority of people and according to a survey from JDP, 93% of candidates experience anxiety related to the interview process. We spoke to Generation Next lead and HR director Lucy Robinson to see what her top tips are to boost your interview performance and confidence.
Practice
Practice makes perfect! Simply Google common interview questions and set up a mock interview with a friend or family member. This way you can mock-up some "go-to" answers which you'll be confident delivering on the day.
Reflection
Even though you don't always like to think about it, take some time to go back to a time where you didn't get the job but also consider times you did. Ask yourself "what did I do differently?" and identify areas you can improve.
Also, look at your circumstances, what skills have you gained since your previous interviews, how have you developed your experience? This will make you feel more confident to improve on past interview performances.
Value your soft skills
Take a moment to think about your soft skills and make sure you bring them up in your interview. Qualifications and experience are essential, but they are sometimes just as important as your soft skills.
Examples of soft skills: Listening, presenting, writing, teamwork, leadership.
Stick to what you know
Don't lie! Remember that scene in Friends when Joey gets a new job and lies about speaking French in the interview? This is an extreme example, but it causes extra stress which will add to your nerves during the interview process, not to mention, your performance if you land the job. Be true to yourself and you'll feel much more relaxed.
Network
Networking is a great way to meet potential employers and build your confidence. Take a look at networking groups and programmes – such as Generation Next – which can help build your skills and increase your opportunities to meet the right people.
Tell them about you as a person… don't just reread your CV!
The interviewer has your CV directly in front of them, they don't need it reading back to them. Companies are much more interested in the kind of person you are nowadays and whether you will fit in with their culture.
So, when you're posed the common question – "tell us about yourself"- speak about your specialities relative to the role but also mention what you're passionate about.
Ask questions of your own
A good way to ease your nerves about a prospective role is – when given the opportunity – ask questions to the interviewer about the job. It is important to consider whether you're a good fit for the organisation – just as much as it is for the interviewer to consider if you're right for the job.
Research
Make sure you know a bit about the company you are interviewing for. This will make you feel much more at ease if you're asked what you know about the company and you won't be caught off guard.
Dress for the company culture
During your research, pay attention to the company's culture. Even if the interview is virtual, if the company looks like it will respect a suit and tie combo then reflect it. Organisations are becoming increasingly watchful of workplace culture and values so your dress code is one of the easiest ways to show the interviewer how you can fit in.
Think positive! Remember, the interviewer is not wishing for you to fail
No one is ever wishing for a candidate to slip up. Just remember that the interviewer is just as much in need of filling this role than you are needing a job.
If you push the negative thoughts from your mind and focus on the points above, you'll be well on your way to improving your interview performance and reduce your stress levels.
Generation Next is a membership service for young business owners and employees aged between 18 and 35. Through its programme of networking events and workshops, it connects members with like-minded people, develops their skills and opens new doors of opportunity. To sign up, please click here.