On a sunny evening last July, Tony Buck, like more than 100 others, sat down to watch the first ever virtual Generation Next Awards. The associate director of Chesterfield-based Oasis Studios won the Excellence in Innovation and Technology award for his work on the firm's EyeSiteView CGI service. He speaks to the Generation Next team about winning the award.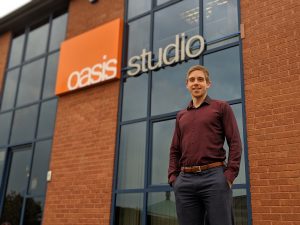 Tell us about your journey from starting out to winning your Generation Next Award?
I was made aware of Generation Next Awards by Paul Humphries at East Midlands Chamber. During the spring of 2021 I met Kate on a Teams call and attended a subsequent online workshop.
It was a great opportunity to meet the Gen Next team and learn the aims of the programme and awards process.
I entered myself for the Excellence in Innovation and Technology award and my colleague for another.
The judging took place in June '21. Again online, I had a chat with the judges, discussed my application and answered their questions.
The awards ceremony took place in July 2021. It was streamed over YouTube due to Covid. I recall it was a lovely sunny Friday evening. I setup my iPad in the garden, cracked open a cold beer and enjoyed the awards ceremony with my dog and partner Jasmine.
What has been the secret to your/the company's success?
I suppose it's a little cliché but it's down to the team's passion and hard work. A positive and productive team culture is very important to us.
We are a relatively young team delivering innovative products in the fast-paced tech arena. Like most it has been particularly challenging over the last couple of years for obvious reasons.
During this time, we've remained agile and committed whilst trying to have fun along the way.
What tips would you have for any young person setting out in business?
Never stop learning. I'm a big believer in self-development through reading, listening to podcasts and experiences. Find a good mentor to bounce ideas off, ask lots of questions and learn from your own mistakes and those by others.
How does it feel to win recognition for what you've done via the Generation Next Awards?
I was humbled to win the award, it's always nice to be recognised for your efforts. At Oasis, we believe in our innovative capabilities, so to have that qualified by the Generation Next judges is rewarding. The physical award takes pride of place in the Studio's meeting room.
The Generation Next Awards are currently open for nominations, and applications close on 3 May. The programme is open to both members and non-members of the network, and will be celebrated on 14 July at Bustler Market in Derby.