Generation Next has announced the second iteration of its board – known as "champions" – to help shape the young people in business network's activities for the rest of the year.
Rikan Patel, director at Business 2 Business, and Karishma Karia, social media co-ordinator at Jake & Nayns, have joined the board to lend their expertise to the network's operations for 2022/23, alongside a host of returning members.
Established by East Midlands Chamber in 2020, Generation Next is a support network for young professionals and entrepreneurs between the ages of 18 and 35.
It created a board of "champions" last year, comprising young businesspeople from across the East Midlands, to help influence its activities and keep it relevant for the target audience.
East Midlands Chamber's director of resources and Generation Next lead Lucy Robinson said: "We are delighted to welcome Rikan and Karishma to the board of champions.
"Our board has a valuable role in the planning of Generation Next activities to keep the network relevant to our young members. I'm really looking forward to working with returning members for a second year, and to see the fresh ideas Rikan and Karishma will bring."
Joining Rikan and Karishma are a host of returning board members who were part of the inaugural line-up of champions appointed last year.
Emma Baumback continues as chair, with Daniel Nikolla appointed as vice-chair for 2022/23.
Emma, who is an independent financial planner at Future Life Wealth Management, said: "I'm thrilled to be continuing my role as chair for another year – and I'd like to extend a warm welcome on behalf of the board to Rikan and Karishma.
"It's such an exciting year to be a part of Generation Next. We launched our new mentoring service earlier this year, and are set to host our first in-person awards ceremony in July to celebrate the top young talent in the region. We've also got some great events coming up, including a netwalk in the Peak District and a finalists celebration at Cosy Club in Nottingham."
Daniel, who is the marketing manager at Hardy Signs, added: ''I'm as excited about Generation Next as the first day I heard about the organisation and what it is trying to achieve. Being a member of the board for the past year has enabled me to see the passion and work that takes place every day – to make the East Midlands a better and more accessible place for young professionals.
"That's why I am delighted and privileged to be appointed as vice-chair, and continue helping our chair Emma and the rest of the board fulfil our overarching strategy and duties to the ever-growing membership."
Meet the new champions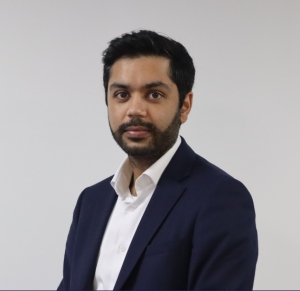 Through his company, Rikan supports individuals into employment via a variety of services which address barriers to employment and upskilling. It also offers a socially responsible recruitment service, which is publicly funded, and helps organisations source the right candidates.
Prior to joining Business 2 Business, Rikan graduated in law from the London School of Economics and later completed his master's degree at Imperial College Business School, before furthering his studies in leadership at Cambridge University.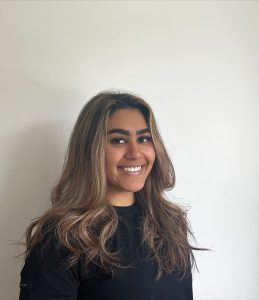 Alongside working within the team at food manufacturer Jake & Nayns – which supplies snacks such as filled naans for major supermarkets' food-to-go ranges – to create new and exciting ways to connect with the next generation via social media, Karishma is completing her master's degree and legal practice course at De Montfort University.
With a passion for connecting with new people and learning from others, she also works as a paralegal within Pattersons Commercial Law, in Ratby, Leicestershire.
Returning board members
Emma is an independent financial planner for Future Life Wealth Management, based in Renishaw, and provides bespoke and holistic financial solutions for clients across the East Midlands and neighbouring regions. Her career in the financial services industry started as an administrator in London more than 10 years ago after leaving school and she soon fell in love with helping clients achieve their financial goals.
Daniel is the marketing manager of Hardy Signs, a Burton-based physical and digital signage company. He moved to London from Albania in 2013, and studied at City and Islington College, where he was also the student union president and sat on the board of governors.
Beth is a senior associate solicitor at Nelsons specialising in employment law, providing a full service to protect her clients against employment-related risks. She advises on a range of matters including claims for unfair dismissal, harassment, breach of contract and misconduct investigations, with particular expertise advising on disability discrimination.
Byron is an investment manager and assistant director at Brewin Dolphin's Nottingham office, working with people from a variety of backgrounds to help them make the most of their finances. He has recently completed an MBA at Cranfield University, which has helped his understanding of being a leader within an organisation.
Hope is a senior resourcing advisor at Pick Everard, responsible for sourcing and attracting exceptional talent to work within the Leicester-based construction and property consultancy's diverse, inclusive and collaborative environment. Prior to this, Hope worked within the hospitality sector both in the UK and overseas.
Katie has recently been appointed commercial director at Nottingham-based food gifting business TTK Confectionery. She is passionate about paving the way for her team to succeed and grow in their own roles within the business. In 2020, her team won Team of the Year at the Chamber's Enterprising Women Awards.
Katrina is the space and community manager at Nottingham Trent University's new Dryden Enterprise Centre. Katrina's role is to support the centre's members to find the right space for them to help grow their businesses in a place where ideas and people can thrive.
Lee Tomes is an award-winning filmmaker and managing director of video storytelling company Orange Fox Studios, based in Leicester. Lee has helped businesses, brands and non-for-profits share their stories through film and video for a decade. Outside of the business, he has had various projects screened at national film festivals as both a director and cinematographer.
Scarlett is the brand and marketing executive at ER Recruitment, after joining the business as an intern while studying at De Montfort University. Since then, Scarlett has worked on some incredible campaigns and projects, including the the Leicester agency's BrightER Futures project with DMU.
Generation Next is a support network for young professionals aged between 18 and 35 based in the East Midlands. Its membership package gives young workers access to its events and mentoring programmes – which connects delegates with likeminded individuals, as well as leading business professionals from across the region, to build their networks and skills. For more information on how to become a Generation Next member, click here.